"Not 'Hollywood Independent' - writer John Oak Dalton is the real Real Thing." --Cinema Minima."Very weird and unpopular b-movies and comics."--Blogalicious. "After watching the film I am left to wonder if he had some childhood trauma he is not telling us about."--IMDB user review. "Screenwriter John Oak Dalton wanted to be in Hollywood. Instead, he's in the rustic kitchen above the Germania General Store, stirring a pot of boiling hot dogs." --The Harrisburg Patriot-News.
Wednesday, July 21, 2004
MCF #4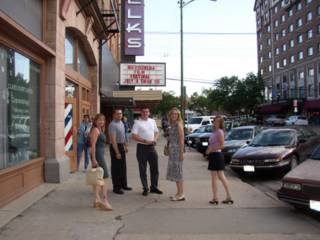 The Elks Theater, hosting the Microcinema Fest, with Sheri Carter, Roman Berman, Jason Santo, Sharla Linn, Stacy Monty.